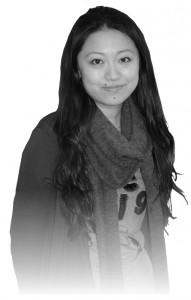 Yep, She looks different! She has different colour eyes and hair, an accent when she is speaking English. But , she has the same strong passion for producing radio programmes!
She comes from a far country, China.
She is a girl called Zhang Tianyi.
This is her recent life.
In the June of 2007, she began by taking a part-time job as a recording assistant in D.SUN ART RECORD LTD.CO. Since then, she has been involved in a large number of recording practices and produced approximately 7 albums.
In 2008, having passed the selection examination of Beijing Olympics Broadcasting Co. , she became a personnel of audio department of BOB and participated in the live broadcast of the football games.
In the June of 2009, she got her Bachelor's degree in Recording Engineering from Community University of China.
In the September of 2009, she enrolled to be a postgraduate student under the supervision of Professor Li Dakang and has assisted him in completing recordings and mixing of around 20 live concerts until now.
In the September and October of 2009, she was selected to work as a member of The State Administration of Radio Film and Television (SARFT) in the audio output team in China's National Day parade and was cited for completing her mission excellently by SARFT.
In the September of 2010, she enrolled to be a postgraduate of Bournemouth University and majored in Radio Production.
Now, she is enjoying the fun that radio is bringing to her…