Join BIRSt.co.uk at 6pm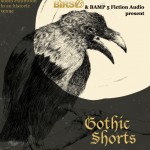 for a spooky Friday 13th November broadcast of adaptations of 'The Tell-Tale Heart' by Edgar Allan Poe.
Produced by BAMP Fiction Level 5 groups and recorded at The Shelley Theatre, Boscombe in Dorset.
Presented by Kieren Thomson
Thanks to Peter Leslie-Wild, Kay Stonham, Gary Hayton and Steve Rafter for mentoring the projects.
Executive Producers :  Jo Tyler & Alan Brown
You may not wish to be in the dark when you listen.
Please note that some strong language is used in some stories.