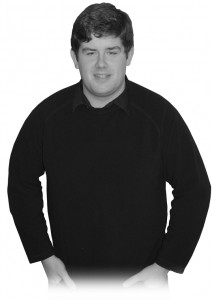 Chris handled his first strobe light when he was just 8 years old, and from then had a passion for theatre (the dark side of the techie of course!), he started off lighting and got talking to sound techs during performances and eventually he plucked up the courage to give the world of sound a go with his first play called Sand Castles which was ironically based at the seaside and has never looked back!
He then moved to the midlands to study Film, Television and Radio Studies at Staffordshire Uni, at the same time whilst working with bands and theatres he also produced and presented for two student led stations and in his final year worked on a community led station broadcasting across the north Staffordshire area called Cre8 Radio, he focused in on radio from the start of his course and gained valuable editing and script writing skills but was left wanting more.
It was during his time at Cre8 he was left with more questions than answers wondering what radio could do, he wanted to experiment with sound and change this media medium for the better to push it to more than it was. The attraction of Bournemouth with its sun, sea and beer (and the media centre obviously), so with a big breath and a lot of curiosity he took the leap of uprooting his life once more to move to the south coast for his next adventure.
With the initial shock of getting into Bournemouth past him he decided to focus on aspects of radio he hadn't experienced before as he felt after three years of presenting he wanted a new area to develop his skills, and to learn new ones also. He wants to take radio forward in the future and let his ideas grow he just hopes the listeners will want to come along too.
If you can't find Chris round the media centre he'll be propping up a bar with a pint of cider in Poole, try along the quay you may turn out to be lucky…