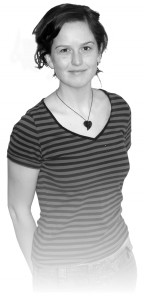 Whilst travelling Hannah rediscovered the magic and versatility of radio as a platform for communication, companionship, performance and alternative debates.  The shock of the amount of stations and their freedoms in the United States, the brilliance of the use and accessibility of Community Stations in New Zealand, and then on return to the UK, just how informative challenging and high quality programmes could be.  It was in New Zealand that she found the Masters she had been searching for in Bournemouth, took the plunge, applied, drove half an hour for phone reception to be interviewed and started the course the day after landing at Heathrow Airport.
From childhood there has always been Radio, words and music.  The Sunday afternoon Children's plays usually provided entertainment in the earlier years or her parents radio set always pre-tuned to BBC 2 or 4, moving on to music in her teenage years and now BBC 7, 6 Music,  The World Service, Radiolab, Planet Rock and many many more. 
Her love for live performance led to a Degree in Theatre followed by backstage and event work. In the summer of 2008, she organised acts and managed the 2nd stage at 'Beached' Festival in Scarborough.  This included booking bands,  meeting and greeting performers, live video mixing for headlining acts on the main-stage projection screens and mucking in with the get-out.
In putting together all the elements of her life so far, Hannah is ecstatic to have gained access to a platform that allows timeless collaboration between audio and words to tell stories.  She dares to dream, and wants to hear, tell and connect other peoples dreams and stories for years to come.
She is looking forward to feeding the Birst machine with tasty snacks and treats.  Enjoy