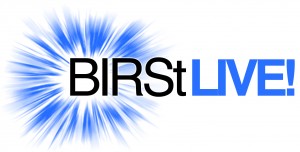 Listen again to the second BIRSt Live! show, originally broadcast on 17th June 2011.
Highlights include:
• Jules the Entertainer talking about balloon modelling, fire-breathing and stilt walking. Jules sees how many balloon models he can make in one minute.
For more information about Jules check out – http://yourballoon.co.uk
• The Biscuit of BIRSt Live. The ANZAC vs the Custard Creme.
• Tim Maltin talks about his book "101 things you thought you knew about the titanic, but didn't".
• We go racing with Dorset-based racing car driver Becky Beth Cox.
• Live acoustic session with New York-based reggae/ska band Easy Star All Stars.
• Pub Guide to Gigs and Festivals.
• How Stuff Works – NASA Skylab.
• What's hot and what's not in the Music Controllers Mystery Box.